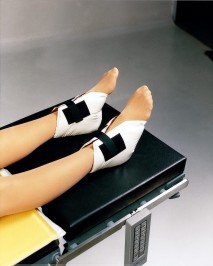 Standard therapy for patients with Category 2 or 3 diabetic foot risk includes apeutic footwear, diabetic foot education, and regular evaluation by a podiatrist. But a study reported in diabetesjournals.org, added the use of a handheld infrared skin thermometer to measure foot temperatures. The results showed that the enhanced therapy group had significantly fewer diabetic foot complications, suggesting that monitoring foot temperatures may help prevent complications in individuals at high risk for lower-extremity ulceration and amputation.
Among the 85 patients selected for the study, there were no significant differences in:
age
duration of diabetes
severity of neuropathy measured by VPT
diabetic foot risk category
"The most striking result of the study was the disparity in the number of foot complications between the two groups, the researchers concluded. "Areas that are likely to ulcerate have been associated with increased local skin temperatures." The temperature increase is due to inflammation and enzymatic autolysis of tissue, the study authors point out. Identifying areas of injury by the presence of inflammation would then allow patients or health care providers to take action before a wound develops. The use of an infrared skin temperature device provides objective, quantitative information "shown to be predictive of impending ulceration."
Here at Action Products, where we pioneered the use of polymer for bed and pressure sore prevention, the importance of foot health is well understood. Action® Heel Protectors are recommended for those home or facility healthcare clients "at risk" or diagnosed with compromised skin disorders involving the feet. Meanwhile, in the OR, in accordance with AORN guidelines, our heel support positioning devices are designed to cradle the heel of the foot in a gel.
Woundsresearch.com reviews two further studies in improving the detection of pressure ulcers by using thermal imaging. The first evaluated the predictive capacity of an infrared thermography device integrated with software to predict pressure ulcer development in a cohort of patients admitted to Duke University Medical Center; the second abstracted skin-integrity consult records for PRIDS capillary refill status, using skin infrared thermography of the PRIDS center and normal adjacent skin. Both studies demonstrated the value of surface thermography in identifying previously undetected deep tissue injury.