Akton® polymer is a dry, viscoelastic polymer. Its proprietary formulation is exclusive to Action Products and is the hallmark material of our Action® brand products. Our unique polymer is an ultra-soft, solid rubber that has a tissue equivalent feel. It will not leak, flow, or bottom out if punctured.
Akton® polymer looks and feels like a gel but is more body friendly.
The shear reducing qualities of the products are enhanced by the combination of the soft, flexible outer film and the tissue equivalent polymer.
Top 3 Properties of Akton® polymer
The Load Bearing Capacity of the Akton® polymer helps prevent the development of pressure injuries. Distribution of the patient's weight over the surface of the product helps minimize pressure points, decreasing the risk that a high-risk area will be negatively impacted.
Akton® polymer possesses memory and will always revert to its original shape.
Elasticity, the ultrasoft polymer combined with the flexible film surface, or "skin" of the products helps to minimize shear forces that can tear and damage skin integrity.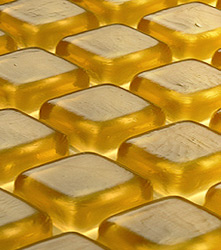 Founded in 1970, this Maryland based company has established itself as a leading manufacturer and distributor of pressure relieving products used in medical and related industries throughout the world.
Most of the company's products are derived from an ultra-soft synthetic rubber-like material, called Akton® polymer. This unique, shock absorbing material was invented by the company's founder, Dr. McElroy, in the basement of his home forty years ago. What began as a scientific pursuit to develop padding that would help prevent pressure sores in immobilized patients has today spawned a corporation that sells over 2000 products for hundreds of applications. Its diversified markets include hospitals, home health care dealers and therapists, military and law enforcement agencies, equine and shooting sports and a wide variety of Original Equipment Manufacturers.
Wheelchair cushions and bed pads were the first products sold by the company. The company continues to cater to the home healthcare industry. Caregivers, assisted living facilities, rehabilitation centers and long-term care facilities have relied on Action® products to prevent and manage pressure sores. Besides the standard wheelchair seating and positioning cushions and surface support pads, Action also manufactures heel and elbow pads, commode pads and hand exercisers for rehabilitation.
In the mid-1980s, Action Products expanded its market to include hospital operating rooms. Research indicated anesthetized patients were developing pressure sores during surgery, similar to those seen on bedridden or wheelchair-bound individuals. A product that could prevent such tissue trauma was found to be in high demand. By 1990, the company had designed approximately 50 products for its operating room line. These products include table pads, head pads, chest rolls, patient positioners, pediatric positioners, and specialty surgical frame pads. Today, the product line is over 150 products strong and growing!
The wonder polymer has also been used in a nasal mask to treat sleep apnea, as an absorbent in high energy electron and photon radiation therapy for cancer. Research and innovation remain the hallmark of the company and are the legacy of its founder, Dr. McElroy.
Other Uses for Akton® Polymer
The shock-absorbing attributes of Akton® polymer present limitless applications for its use that extend far beyond the medical field. The material is used in sports like soccer, hockey, baseball and football, space ships, gun recoil pads for hunters and law enforcement, in gloves for jackhammer users, in padding for race car driver seats and in various pads for horses to prevent tissue trauma.