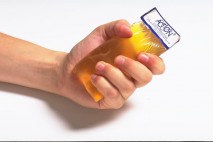 Made of 100% Akton® polymer gel, this flexible cylindrical exerciser provides uniform resistance for finger or gross grasping exercises. Akton® polymer gel provides unlimited degrees of resistance directly proportionate to the force placed on it. The Hand Exerciser is perfect for increasing hand strength and coordination for people of all ages and disabilities.
The Hand Exerciser is shaped to form to the contours of your hand. It is designed to improve grip strength, increase dexterity and mobility, develop motor skills and even improve circulation. If you have arthritis or have experienced a hand injury you may enjoy the benefits of this hand exerciser.
The Akton® polymer gel will not crack or leak. It will return to its original shape after every exercise. It may even reduce stress while you are gaining strength and endurance. Please let us know how this unique product worked for you.