"In the rat race of success, in the hectic routine and lifestyle, stress is a common factor that plagues all. Be it at home, work, or during travel, stress simply seems to follow you everywhere," is the all-too-true comment on the ePainAssist.com website.
No worry, ePainAssist points out – stress balls are here to help. Small balls filled with clay or malleable gel that can be easily held in your palm. Spherical in shape, they can be squeezed by the fingers, thereby relieving stress. "Squeezing a stress ball activates the muscles to contract and releasing it helps the muscles to relax. This repeated action of gripping and releasing is helpful in psychological, emotional, and physiological ways."
A bit of hyperbole at work? Perhaps, but ePainAssist explains:
Squeezing a stress ball stimulates the brain and releases endorphins that act as sedatives and painkillers.
Focusing on squeezing diverts your attention from stress factors. The repeated action of gripping and releasing the stress ball mimics the calming effect of yoga and meditation.
Clenching and releasing the ball activates the nerves in the hands, which in turn pass signals to the limbic region of the brain responsible for emotional behavior.
Stress ball exercise improves circulation, removing toxins from the body.
"Occupational therapists have observed that a very light touch alerts the nervous system, but deep pressure is relaxing and calming," Temple Grandin, Ph.D. writes in the Journal of Child and Adolescent Psychopharmacology.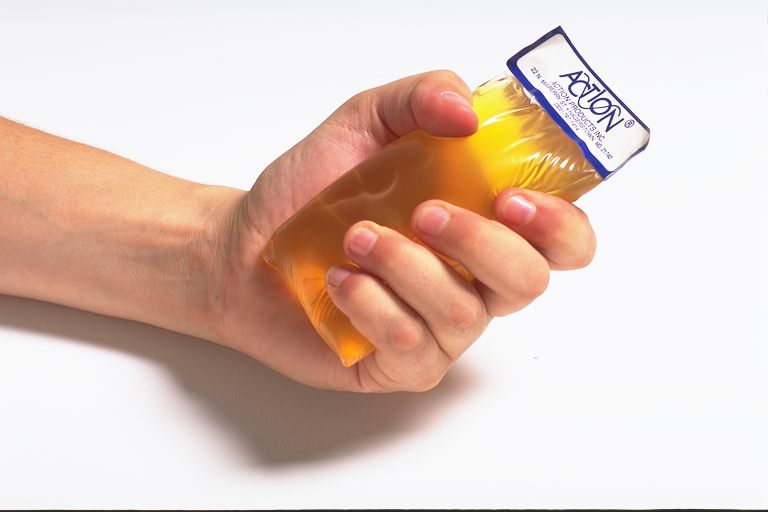 At Action Products, we're very familiar with the fact that operating room nursing professionals in particular experience extremely high levels of stress, negatively impacting their physical and emotional health. But the perfect equivalents of stress balls are available right there in the OR, in the form of our Akton® viscoelastic polymer gel positioners! No kidding. Before setting up the table for the patient, take time for a few self-therapeutic squeezes. In fact, we offer our version of an actual medical stress ball! Whether in a hand exerciser or patient positioner, Akton® polymer gel not only redistributes patients' weight, it:
redistributes heat
will not leak, flow or absorb fluids
will not bottom out under heavy loads
is easy to use, maintain and clean
has a soft, flexible skin to move easily with the patient
is eco-friendly
http://www.actionproducts.com/hand-exerciser.html
Most important, those chest rolls, positioners, and head pads – are eminently SQUEEZABLE!
In fact, while Mr. Whipple may ask you to "please not squeeze the Charmin", at Action Products, we urge OR nurses - Please – squeeze the Akton® polymer!