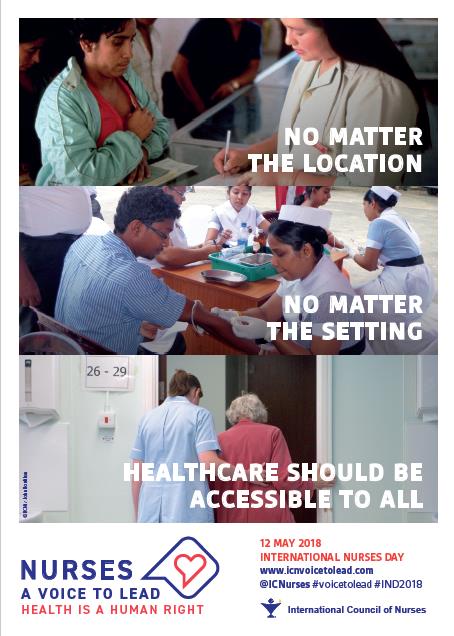 We are pleased to announce that ICN has chosen the theme "Nurses A Voice to Lead – Health is a Human right" for International Nurses Day 2018! Each year, on May 12, the anniversary of Florence Nightingale's birth in 1820, the tireless efforts of nurses all over the world are celebrated, explains timeanddate.com. The International Council of Nurses (ICN) chooses a new theme for every year and prepares and distributes the International Nurses Day Kit, containing educational and public information materials, to be used by nurses everywhere.
(International Nurses Day shouldn't be confused with National Nurses Day which is a holiday celebrated on May 6th in the United States to honor the contributions of nurses to society.)
While International Nurses Day is not a public holiday, the United Nations and the World Health Organization use this celebration to focus attention on the important task of recruiting and training nurses worldwide.
Different countries celebrate this holiday in different ways, holidayscalendar.com relates:
In Australia: the Nurse of the Year is announced at a ceremony
In China: nurses gather to recite the Florence Nightingale Pledge
In the United Kingdom, at Westminster Abbey, nurses pass a symbolic lamp between themselves and onto the High Altar, signifying the passing of knowledge from one nurse to another.
In the United States, the holiday is observed as a part of National Nurses Week observed May 6th – 12.
The Holidays Calendar website suggests ways Individuals can participate in celebrating International Nurses Day:
remembering the contributions of their favorite nurse
telling them thanks for the work they do
sending them a card or sending them flowers
using the hashtag #internationalnursesday in social media postings
Action Products has been celebrating nurses for forty years, but International Nurses Day goes back even further than that. While the event became official in 1965, the idea for it traces back to President Dwight D. Eisenhower's time in the 1950's, when it was first proposed by an official with the U.S. Department of Health, Education and Welfare named Dorothy Sutherland.
One project near and dear to our hearts here at Action Products is Mercy Ships, the organization which provides free, lifesaving surgeries for people in parts of the world where medical care is nearly non-existent. The Association of periOperative Registered Nurses partners with Mercy Ships to provide surgical support and healthcare in African Nations.
In the month of May, the world unites in celebrating nurses!