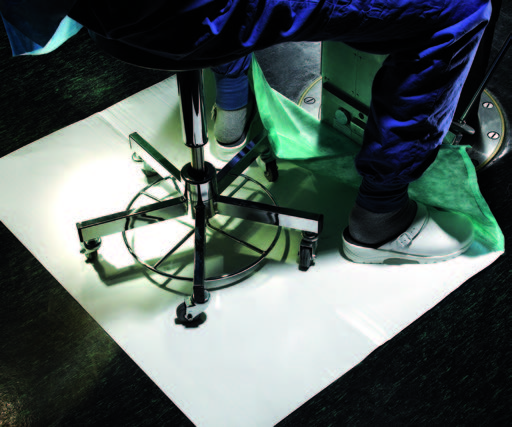 "Slip and fall (STF) incidents involving healthcare employees frequently result in disabling injuries that affect their ability to do their jobs and care for patients," Chris Wetmore points out in Healthcare Facilities Today.
The most recent findings gathered by the U.S. Bureau of labor Statistics show that injuries that lead to a loss of workdays occur at a rate of about 38.2 per every 10,000 healthcare employees, making the risk for these injuries 90% greater for healthcare employees than for all other private industries combined. The incidence rate of lost-workday STFs ranks as the second most common cause of lost-workday injuries in hospitals. Contaminants on the floor are the leading cause of STF incidents in healthcare facilities.
In fact, one important function of operating room mats is the capturing and handling of contaminated fluids during surgery, which can be the cause of infection in addition to posing a slip and fall risk. . In a report "Understanding fluid containment in the Operating Room Setting," Absorbest Director of International Sales, Maria Somvall chronicles a study conducted to demonstrate the absorbency of the ABSORBEST core in the operating room product DryMax 2.4 (nickname: the "Mighty"), in which 4 gallons of distilled water, 3 gallons of tap water, or 1 gallon of saline were quickly transported into the core of the mat, effective capturing and sequestering fluid containing bacteria and other substances.
"Mats are used to prevent STFs to provide slip-resistant walking surfaces by absorbing liquid," the CDC report continues, but "mats are only effective if properly used and maintained. Old or poorly placed mats can contribute to slips, trips, and falls."
Earlier this very year, a jury awarded $7,000,000 to a surgeon who fell while using a stool in the operating room, resulting in a brain damage injury. The plaintiff claimed the stool's wheels were unsafe for its environment. Non-skid and absorbent, Action Drymax XL and Combimats are suitable for stools or standing on.
2017/01/valdosta-doctor-awarded-10-million-in-suit-against-sgmc-and-hospital-authority/
Last year, the U.S. Department of Labor's Occupational Safety and Health Administration issued its final rule updating general industry standards specific to slip, trip, and fall hazards. Action Products patented DryMax fluid management mats adhers to OSHA, JCAHO, and CMS standard regulations. https://www.osha.gov/news/newsreleases/national/11172016