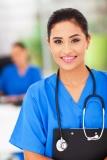 In a qualitative research study involving 72 participants at four acute care hospitals preparatory to AORN's publishing of its latest Guideline for Medical Device and Product Evaluation, "Healthcare industry representatives described RNs as a key audience because RNs have direct contact with patients, prescribers, and purchasers."
At Action Products, we were particularly interested in the criteria suggested by AORN to its nurse members for determining whether to purchase a single-use or reusable product:
the useful life of the product
the intended use of the product
the ability to clean the medical device or product
the availability of required cleaning, disinfection, and sterilization processes
if single-use, cost and requirement for disposal
complexity of manufacturer's instructions for use
maintenance, repair, or restoration programs for instruments and equipment
storage requirements
Action® reusable pads and positioners offer optimum pressure relief and shear reduction in the operating room and beyond. From pediatrics to bariatrics, our proprietary Akton® viscoelastic polymer gel has revolutionized the reusable positioning product market, with attributes that address many of the items on the AORN list for reusable products:
Redistributes weight and heat
Will not leak, flow or absorb fluids
Does not bottom out under heavy loads
Is easy to use, maintain and clean
Reduces hospital disposable waste
Eco-friendly
Easily repairable
Does not support bacterial growth
Self-extinguishing
Meanwhile, Action's DryMax Fluid Management products, which are single-use, help reduce laundry costs and shrink turnover times.

"Perioperative RNs have an ethical obligation and professional responsibility to address environmental exposures and hazards for the health, welfare, and safety of all people," the AORN Guideline document declares. "Perioperative RNs can help to mitigate the environmental effects of health care by supporting the selection of environmentally responsible products," the report continues.

At Action Products, the manufacture of reusable operating room products is a hallmark of our work, and perioperative nurse professionals represent one of our key audiences. One common goal is compliance with local state, and regulatory requirements, as well as compliance with accrediting organizations. In addition to OSHA, two other sets of compliance standards must be satisfied:


1. JCAHO Joint Commission on Accreditation of Healthcare Organizations
2. CMS Centers for Medicare and Medicaid Services

In addition to perioperative RNs, the interdisciplinary team for "vetting" product purchases may include, AORN explains, cardiac catheterization lab personnel, radiology personnel, sterile processing personally, and anesthesia professionals. As we well know at Action Products, perioperative RNs remain a key audience, precisely because they have direct contact with all the others!