Prior to surgery, the patient must be carefully transferred onto the operating room table. The positioning of the patient is of the utmost importance. Achieving the desired position for the specific surgery requires careful planning and coordination by the entire operating room team. Often, the patient may assist in positioning prior to induction of anesthesia. When the patient is under general anesthesia, the operating room team must carefully position each patient.
In prior posts, you may have been introduced to our one-stop-shop for Operating Room Replacement Table Pads. We have a complete range of table pads to accommodate your need to deliver clinically engineered infection control with a consistent pressure management design. Action® surgery table pads and stretchers provide exactly what you want at the price you need to standardize your O.R. tables. Please note that we provide coordinating Armboard Pads to complete your set, whether flat, contoured or inclined.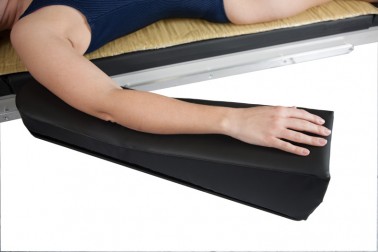 The
Performance Inclined Armboard Pad
is used to prevent hyperextension of the forearm in the supine position. Our premium, triple-layer construction features a continuous layer of Akton® polymer, dual density foams, and a 4-way stretch fabric for superior pressure management.