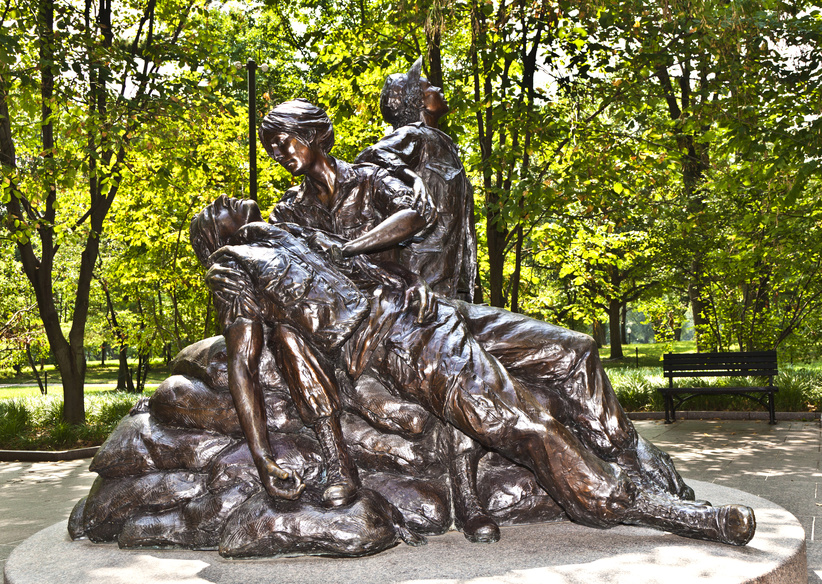 What will you be doing this Memorial Day? Perhaps you will be visiting family and friends to enjoy a cookout. However you spend your day, pause to honor those who went to war to keep us free and safe. My father was a Lieutenant Colonel in the Army and served in WWll and in the Korean War. My brother served in Vietnam. Both returned safely. My mother always reminded my family to remember the soldiers who served in our armed forces. She would tell us how grateful she was to the military nurses who saved the lives of the injured soldiers and comforted those they were unable to save.
If you have an opportunity to visit Washington D.C. this Memorial Day weekend, you may want visit the Vietnam Women's Memorial. The memorial is a bronze statue depicting three uniformed women with a wounded soldier. It is part of the Vietnam Veterans Memorial located on National Mall. Diane Carlson Evans, RN, a former Army nurse, founded the Vietnam Women's Memorial Project in 1984. The memorial reminds us of the importance of the military nurse dating back to the Spanish-American War.
This Memorial Day, Action Products, Inc. remembers and honors the men and women who sacrificed their lives for our country. We also reflect on the contributions made by the brave nurses who cared for the soldiers and for the nurses who gave their lives while doing so.
written by Action Products' team member Peggy Forcelli