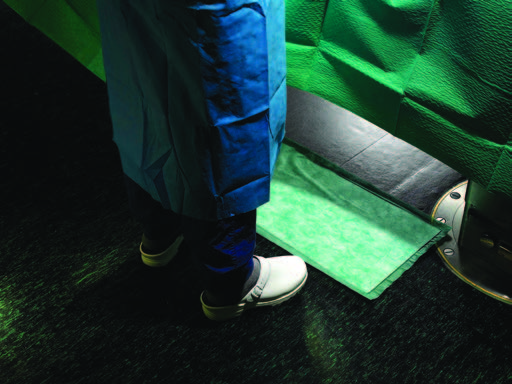 Infection control in general falls into two categories, Chris Patterson, MSN, RN, CNE explains in the Lippincott Nursing Center journal:
Standard precautions
hand hygiene
personal protective equipment
injection safety
environment cleaning
Transmission-based precautions
The Patterson article cites CDC statistics concerning Healthcare-Associated Infections (HAIs), also known as nosocomial infections. These infections are contracted by an estimated 1.7 million patients annually and responsible for 99,000 deaths each year, with the resulting costs ranging from $35.7 to $45 billion.
Air contamination
The International Society for Infectious Diseases' Guide to Infection Control in the Hospital, points out that the major exogenous source of infection is transmission by air, when airborne particles contaminated with live bacteria enter sterile surgical fields. Airborne bacteria in the OR, the authors explain, originate primarily from the skin and hair of individuals in the room. A correlation between the duration of open exposure of instrument trays and the risk of bacterial contamination has also been suggested.
Current air standards in the United States dictate that the air should be virtually free of particles larger than 0.5 m when no people are in the room. To achieve this, ORs should be equipped with positive-pressure systems to ensure that air travels from ORs to adjacent areas, thus minimizing inflow of air to the room.
Surface contamination
The operative site should be scrubbed with a detergent and an antiseptic soap should be applied. Alcohol solutions are preferred to aqueous solutions for skin preparation, but it is important to allow the alcohol to dry after application and before the use of electrocautery.
Contamination through fluids
Fluids can easily spread in the OR via surgical drapes, sloping floors, instruments and equipment, and surgical staff themselves. "Capturing and handling large volumes of contaminated fluids is important during wet surgeries and examinations, but it can be difficult to safely do so, especially in a busy operating room," notes ABSORBEST's Director of International Sales Maria Somvall. In a white paper, Somvall reviews study results showing that DryMax® products (Action Products is U.S. distributor for DryMax®) are able to safely and hygienically absorb water-based liquids such as iodine solution, irrigation fluid, amniotic fluid, urine, and blood, and are later able to be hygienically removed without dripping.
In fact, at Action Products, infection control is at the heart of the design of all positioners and other products used in the OR, featuring:
microbe resistant fabrics
100% no-stitch construction
midline, welded, fluid/waterproof seams
hidden vent system
A recent issue of theSociety for Healthcare Epidemiology of America (SHEA)'s journal features recommended steps to improve infection prevention through increased hand hygiene, environmental disinfection, and continuous improvement plans.