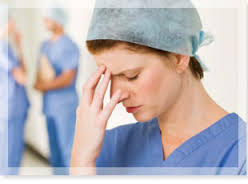 Patient safety in the operating room is a primary concern driving our manufacturing processes and innovations at Action Products. We found the research done by a trio of professionals on noise hazards in the operating room well worth sharing with our blog readers. (Lyda Shambo is a CRNA at Memorial Sloan Kettering Cancer Center in New York; Tony Umadhay is director of the Anesthesiology Programs at Barry University in Miami; Alessa Pedoto is attending anesthesiologist at Memorial Sloan Kettering Cancer Center.)
Relevant facts, statistics, and study findings cited in their literary review, published in the AANA Journal February 2015 issue include:
Operating room decibel levels of constant or intermittent noise tend to exceed the 85 dBA. National Institute of Safety and Health (NIOSH) limits for damaging noise, even without the addition of music.
Peak noise levels during neurologic and orthopedic surgeries exceeded 100 dB more than 40% of the time.
"As a result of hard materials and relatively small rooms, there are longer reverberation times."
One study found that the subjective perception of increased noise in the OR correlated with surgical site infection.
The noisiest period in the OR is anesthesia induction, and competing attention demands were found to have a possible detrimental effect on anesthesia providers' performance.
Clear speech requires a 15-dB signal-to-noise ratio; in the OR, that means speech levels of 70-85 dB is required. OR noise can cause a decrease in auditory processing function.
"The ability to hear monitors, respond to alarms, communicate effectively, and coexist in this environment mandates consideration of all team members as equal stakeholders in patient care and staff health and safety," the authors conclude.
While decisions about playing music in the OR is certainly outside our Action Products purview, patient safety and pressure injury protection are certainly not. Our variety of clinically engineered support surface options were designed to address two specific patient–centered goals:
Infection control (surfaces are bacteria/microbe-resistant, midline seams avoid liquid pooling, surfaces fluid/waterproof, proprietary hidden vent system minimizes cross-contamination)
Pressure injury prevention (shear reduction, distributes heat and weight evenly, static resistant, high-density foam base for support)
Can music in the operating room become a safety hazard? The AANA Journal authors seem to think so, and we believe the topic would be of interest to our readers. At Action Products, meanwhile, our focus is on pressure injury prevention and nurse education!