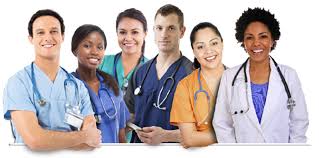 "Millennials are saving the nursing profession," writes Shari Rudavsky in USA Today. "Facing a potential shortage due to Baby Boomers retiring, nursing has welcomed an unexpected surge of Millennials entering the field." Nursing fills the void that the decline in manufacturing jobs created and offers steady, reliable – and meaningful - work, allowing Millennials to contribute to society while offering a degree of flexibility lacking in many other fields.
On the flip side of the coin, the American Nurses Association reports that the overall nursing shortage isn't stopping soon, citing several factors that are creating a "renewed critical shortage for nurses":
Over the past decade, the average age of employed RNs has increased by nearly two years, from 42.7 years in 2000 to 44.6 years in 2010.
America is seeing vast increases in the number of people over 65. This age group has many medical and health needs, and will put a strain on our health system.
Recent reforms in healthcare will give millions of people access to the healthcare system. More nurses and health professionals are needed in response.
With nurses needing to work long hours under stressful conditions, results can include fatigue, injury, job dissatisfaction, and the making of medical errors.
With safety and injury prevention our primary goals at Action Products, we remain keenly aware of these factors. In terms of "pressure relief", we know that pressure injury prevention is a top hospital initiative due to Medicare laws and rising costs. Our proprietary manufacturing focus has always been optimum pressure relief and shear reduction, starting with our Akton® viscoelastic polymer positioning products.
In terms of slip and fall incidents involving healthcare employees, Action Products contributes to slip/fall prevention with its DryMax fluid management mats, which adhere to OSHA, JCAHO, and CMS regulations.
The trend towards Millennials' choice of nursing as a career could be associated with economic factors, suggests David Auerbach of the faculty at Montana State University's College of Nursing.
Millennials came of age during the Great Recession; nursing generally offers stable earnings
Millennials are looking for meaningful work that they care about
Millennials bring a multitude of positive qualities to nursing, Carrie Sue Halsey, MSN, CNS-AD, RNC-OB,. ACNS-BC points out in nursingsociety.org:
They are the most-tech-savvy generation
They operate in multitask mode all the time
They are racially diverse and seek social justice and complex understanding of others
They are able to process information quickly
They want to work collaboratively as part of a team
"It is time for nursing leaders to stop managing from the past and reflect on how to become the leaders' millennials need," Halsey concludes.