"As the government and payers scrutinize costs and push the shift to value-based care, outpatient surgery is expected to see an overall 11 percent increase from 2017 to 2022," Laura Dyrda writes in ASCOA (Ambulatory Surgical Centers of America). ASC surgical volume in 46 of the 50 largest markets in the U.S. grew 10 percent from 2015 to 2016, and "market factors are expected to continue pushing for growth."
At Action Products, the mix of products ordered by our growing base of ambulatory surgical center customers mirrors some of the specific surgery types ASCOA reports are increasingly moving to outpatient centers. Just two examples of the trend towards performing more complex, longer-duration surgery procedures in an out-of-hospital patient setting:
"Inpatient orthopedic and spine surgeries are expected to decrease 3 percent over the next 10 years while spine surgeries, including spinal fusions, are expected to increasingly head to the outpatient setting."
"Inpatient gynecology is expected to stop 28 percent in the next decade, while hysterectomies will become more common as an outpatient procedure."
In the past, with only shorter-duration surgeries performed in an ambulatory setting, the quality and durability of table pads mattered less. Today, with surgeries of longer duration moving to the ACS, we have begun seeing a much higher demand for the Action Performance Plus table pads with end-to-end polymer gel filling to provide consistent, long-lasting pressure and shear management.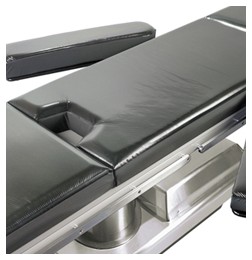 Just as pressure injury prevention has become a top initiative for hospitals (due to the Medicare laws and rising costs), it will now become a crucial element in ambulatory center surgery. And, just as Action® reusable pads and positioners offer patients optimum pressure relief and shear reduction in the hospital operating rooms, our company will continue to provide products to the growing number ambulatory surgery center market customers.