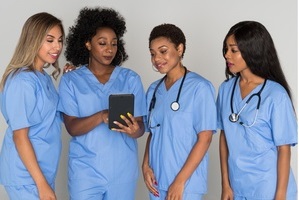 AORN Guidelines for Patient Positioning Reminders:
Page E12: The researchers found that both the foam and gel mattress and the viscoelastic gel overlay were significantly more effective than the foam mattress in preventing skin changes and pressure injury, but the viscoelastic gel overlay was the most effective surface for preventing pressure injury.
Page E31: [Strong Evidence] Perioperative team members should implement measures to prevent patient from sliding on the OR bed [in Steep Trendelenburg]
Page E35: [Moderate Evidence] When using Candy Cane shaped leg holders, additional padding should be placed around the patient's foot and ankle. Note: Action® Candy Cane Pads, Heel Protector Pads and two sizes of Ankle Strap Stirrup Pads
Page E43: [Moderate Evidence] An axillary roll should be placed under the patient's dependent thorax, distal to the axillary fold at the level of the seventh to ninth rib... reduces the pressure on the head of the dependent humerus and avoids compression of the axillary neurovascular bundle. Note: Action® Small, Large and Extra Large Positioners
Page E17: VII.d. …patients should be positioned on surfaces that redistribute pressure: Pressure redistribution is the ability of the supportive material to distribute the load over a broader surface or contact area... Bottoming out occurs when the support surface becomes fully compressed under the weight of the patient's body.
"Static surfaces such as viscoelastic polymer (i.e. gel) overlays are designed to reduce shearing and to support the patient's weight without becoming fully compressed under the weight of the patient's body. Gel overlays are radiolucent, latex-free, and reusable."
Page E25-27: IX.c. Supine: A pillow or pad may be placed under the patient's lumbosacral area." Prevents postoperative back pain by supporting the lordotic curvature. Note: Thoracic Postioner
IX.d. Supine: The patient's knees should be flexed approximately 5-10 degrees. ...to prevent popliteal vein compression and reduce the risk for DVT. Note: Dome Positioner
IX.e. Supine: The safety strap should be placed approximately 2" (5 cm) above the knees. Legs should be parallel and ankles uncrossed. Note: Positioning Strap
Page E44: XV.c. Prone: The patient's head should be positioned in a neutral position, without excessive flexion, extension or rotation.
XV.c.1. When patient's head is positioned in the midline, a face positioner designed for this purpose should be used. Note: Prone Head Positioner
For the complete list of recommendations, please view the 2017 AORN Guidelines for Patient Positioning.
Let us know what your positioning challenges are, and we can help you find exactly what you need, or we can make it for you. www.actionproducts.com or call customer service: 1-800-228-7763