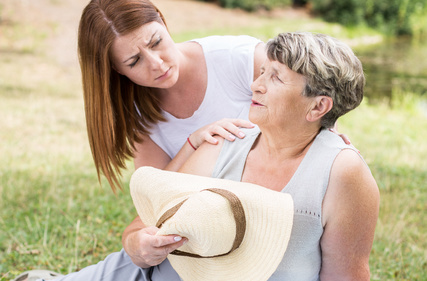 Managing heat and humidity in the summer is a priority for everyone; for older adult home healthcare patients, it's a lifesaving necessity.
Every summer, healthinaging.org reports, nearly 200 Americans die of health problems caused by high heat and humidity; most are age 50 or older. Hot weather is more likely to cause health problems for older adults, the authors explain, for a variety of reasons, including:
age-related body changes
chronic health conditions
side effects of medications
When temperatures are above 90◦, older adults are advised to:
stay out of the sun
spend as much time as possible in air-conditioned surroundings
stay hydrated
dress in light-colored, light-weight clothes
take tepid showers, baths, or sponge baths
Health problems caused by too much heat, the authors caution, include:
weakness
headache
muscle cramps
dizziness
confusion
passing out
Heat stroke is signaled by a very dangerous, potentially deadly rise in body temperature (103 degrees or higher) with dry skin, rapid pulse, nausea or vomiting and confusion. These symptoms should prompt a call to 911, healthimaging.org urges.
At Action Products, where we provide home medical products, we know that summer is a particularly dangerous time for immobilized patients. Users of our Akton® viscoelastic polymer products, designed to prevent and manage pressure injuries, are often older adults who are being cared for in their own homes.
For older adults, managing heat and humidity during the summer is a lifesaving necessity. Action products, which never leak or bottom out, are specially designed to help older home healthcare patients handle the heat.