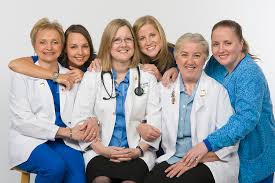 "The evolution in health care and a global demand for quality patient care necessitate a parallel health care professional development with a great focus on a patient centered teamwork approach," observe the authors of a paper published by the Sudanese Association of Pediatricians. For the first part of this month, our Action Products blog will explore resources and techniques for improving patient care through improved team communication.
David Anttony of Workzone.com lists some simple ways to improve team communication:
Have an open-door policy and be open to reciprocal feedback.
Be clear about tasks so everyone knows whose responsibility each task is.
Identify and support group leaders.
Be open and honest, taking ownership for mistakes.
Adapting that advice to a hospital setting is hardly as easy as it sounds, Michele O'Daniel and Alan Rosenstein point out in Patient Safety and Quality: An evidence-Based Handbook for Nurses, because "fostering a team collaboration environment may have hurdles to overcome:
additional time
perceived loss of autonomy
lack of confidence in the decisions of others
lack of awareness of the education, knowledge, and skills held by colleagues
differences among members of the team on the priorities of patient care
One barrier compounding the issue of team communication, O'Daniel and Rosenstein note, is that the United States is one of the most ethically and culturally diverse countries in the world. These cultural differences can exacerbate communication problems because in some cultures, individuals refrain from being assertive. In a hierarchical culture, people on the lower end of the hierarchy tend to be uncomfortable speaking up about problems or concerns, and staff who witness poor performance in their peers are hesitant to speak up for fear of retaliation or simply out of a belief that speaking up will do no good. Barriers most often are found between:
physicians and residents
surgeons and anesthesiologists
nurses and nurse managers
Practical tips offered in that Sudanese Association of Pediatricians paper which might prove particularly relevant in the perioperative setting:
Introduce yourself to the team, clarifying your role.
Use objective (not subjective) language)
Read back/ close the communications loop.
Do a team briefing before the activity and a debrief afterwards.
Concentrate on "what: is right for the patient, not on "who" is right or wrong.
Fortunately, the authors conclude, effective teamwork is now being globally recognized as an essential tool for constructing a more effective patient-centered, team-based health care